Cours en ligne : Gestion de conflict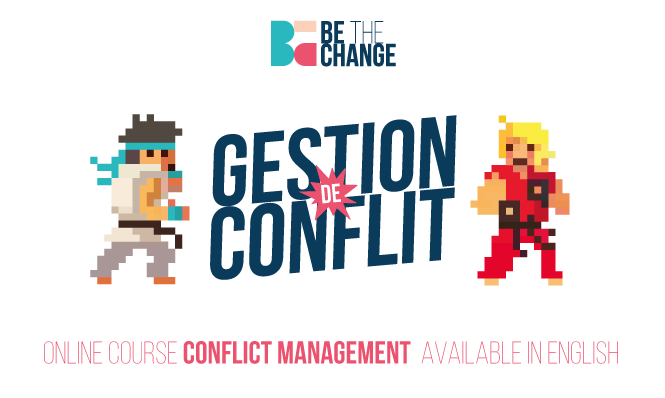 Be The Change: un cours en ligne pour se former à la gestion de conflit
Ne pas être d'accord, être blessé.e par une parole, vouloir exprimer ses émotions sans heurter... Des conflits peuvent arriver et ils sont même parfois nécessaires. Mais comment se positionner face à eux? Quels outils utiliser pour les désamorcer ?
Inscriptions avant le 4 mai prochain !
Un cours en ligne sur la gestion de conflit, qu'est-ce que c'est ?
Be The Change est un cours en ligne pour découvrir et pratiquer différents outils de gestion de conflits, à travers 4 approches: l'approche universitaire, les outils d'éducation populaire, le théâtre forum et la vidéo participative.
Ce cours vous invite à explorer la notion de conflit et à acquérir, en les expérimentant, des techniques utiles autant dans la vie professionnelle que dans la vie personnelle. Vous pourrez découvrir le rôle de la communication dans la gestion de conflits mais aussi examiner votre propre rôle dans la facilitation de processus de gestion ou de "transformation" de conflits ou encore vous approprier les principes de la médiation.
Les activités proposées ont été développées par des formateurs spécialisées sur le sujet, des travailleurs jeunesse et volontaires engagés auprès de SJ et de 9 autres organisations européennes.
.

Quel est le programme?
Le cours ouvrira le lundi 4 mai prochain pour une période de 6 semaines.
Chaque semaine sera abordé un nouveau thème et vous serez accompagné dans cette aventure de la formatrice Laëtitia Barbry sur un programme en 3 temps:
Qui peut participer ?
Ce cours est gratuit. Il s'adresse à des travailleurs jeunesses des animateurs de chantiers et des étudiants mais il est ouvert à toute personne intéressée par la gestion de conflits. Le contenu est en anglais mais il est possible d'échanger en français sur le forum. C'est un cours en ligne à suivre seul ou à expérimenter en famille ou entre ami.e.s.
Comment s'inscrire?
Vous pouvez vous inscrire avant le 4 mai en envoyant un message à Anne, à l'adresse exchanges@solidaritesjeunesses.org.
Un mail de confirmation vous sera ensuite envoyé avec:
vos identifiants pour accéder à votre compte personnel sur la plateforme
English:
Be The Change: a 6-week online course in conflict management
Not agreeing, being hurt by someone's word, wanting to express emotions without hurting... Conflicts can happen and they are sometimes necessary. But how can we position ourselves to face them ? What tools can we use ? Under lockdown, we are offering a 6-week training course to explore the concept of conflict and try conflict management techniques inspired by non-violent communication, Theatre of the Oppressed or participatory video.


An online course on conflict management, what is it ?

Be The Change is an online course to understand the foundations of conflict as a transformative process and to practice conflict management tools through 4 approaches: the academic approach, non-formal tools, Theatre of the Oppressed and participatory video.
This free course invites you to experiment several methods that you can apply at work or in your personal life​. You will be able to learn about the role of communication in conflict management, but also to analyse your own role in facilitating conflict management or to make the principles of mediation your own. The activities have been developed by specialist teachers, youth workers and volunteers involved in 10 European organisations.

What is the programme?
The course will open on ​Monday May 4 for a period of 6 weeks. Each week will have a new theme. You won't be alone as our trainer Laëtitia Barbry will guide you through a 3 steps program:
a 20-minute webinar, on monday 11 am, to present the topic
3 days to do the different activities at home and discuss your experiences on the online forum (about 1 hour per week)
a 45-minute virtual class on Friday 11 am where you will meet Laëtitia again, who will answer the different questions of participants
Who can participate?
This free-course is aimed at young workers, workcamp leaders and students, but it is open to anyone interested in conflict management. The content is in English. It is an online course to be followed alone or to be tested with family or friends.
How to sign up?
You can sign up now by sending a message to Anne, at exchanges@solidaritesjeunesses.org. A confirmation email will then be sent to you including:
your login and password to access your personal account on the platform
the detailed programme of appointments scheduled during this 6-week course
Be the Change is a european cross-sectoral project funded by Erasmus+ and involving 10 partners from formal education, non-formal education and e-learning sectors: Agareso (Spain), B-Link (Italy), Concordia UK (United Kingdom), Coventry University (United Kingdom), Egyesek (Hungary), Elix (Greece), E-graines -Pimenko (France), Inex-SDA (Czech Republic), Proyecto Kieu (Spain), Solidarités Jeunesses (France).
The main objective is to improve the culture of peace by working on the conflict aspects and by using participative learning methods and approaches, such as participative video or theatre of the oppressed. Trainers coming from different sectors build a teaching to strengthen the skills, social competences, and attitudes of youth workers in conflicts to work towards their transformation into learning opportunities and empowerment.
The outcome of the project is an online course combining the different approaches involved in the project and created by learners and trainers through a participative process.

le programme détaillé des rendez-vous prévus tout au long de ce parcours de 6 semaines
Une classe virtuelle le vendredi, à 11h, où vous retrouverez Laetitia, qui répondra aux différentes questions pour conclure la semaine.
3 jours pour réaliser chez vous les différentes activités et discuter de votre expérience sur le forum en ligne (prévoir environ 1 heure)
Un webinaire d'introduction du sujet, le lundi à 11h
---
Partager cet article: